People tend to think that pregnant women feel beautiful and darling all throughout the three trimesters it takes to grow a baby.
We preggos know that this is simply not true.
As I am in the midst of my third pregnancy I can honestly say that I just don't feel pretty all the while a tiny human is germinating inside of me. I feel fat. I feel awkward. I feel ugly.
It can be super depressing, even though it is such a short period of time. While my head might tell me that my body is working for a noble cause, my hormones and the part of my brain that is still manipulated by horrible media and impossible ideals will thwart any attempt at rationalizing.
Therefore, I struggle. I struggle to remember why my body looks like it does and to not sulk for nine months. I've come up with some ways to empower myself against the ridiculous negativity that gets in the way of enjoying life. What I love so much about MaNouvelleMode is that Natalia is all about embracing your own beauty.
Embracing your own beauty implies that you embrace your season in life. I want to embrace this season of baby-growing, and feel good about myself while I'm here.
There is so much beauty in pregnancy. I see it so clearly when I'm not pregnant. I see the swell of a womb, glowing skin, and fullness of life.
It's ironic that it is so difficult to embrace when it's me. However, this is how I want to see myself while I'm carrying my child. For the next few weeks I'll be sharing ways to feel pretty while pregnant.
Today its all about the clothes. Oh, the clothes…
People will tell you that you only need the basics when you're pregnant, and that is partly true. I will tell you that you need clothes that make you feel like a woman. Anything that makes you feel pretty or sexy is a plus. Here are my five maternity staples:
Maxi dresses, dolman tops, colored pants, drapey cardigans, and fitted tanks.
1.) Maxi dresses:
Fortunately, for us preggos, maxi dresses are very much "in" right now. Many pregnant women can just grab a larger size off the regular rack and make it work with the belly. I can do this half the time. When I'm lucky, I buy a larger maxi dress and let it hug the belly. When I'm unlucky, the dress makes me look like a bloated caterpillar. But whatevs.
This dress was one of the larger ones that didn't make me look like a caterpillar. I actually found it at a Goodwill for $6.00! I'm not a huge fan of my arms, so I paired it with this cute lace cardigan.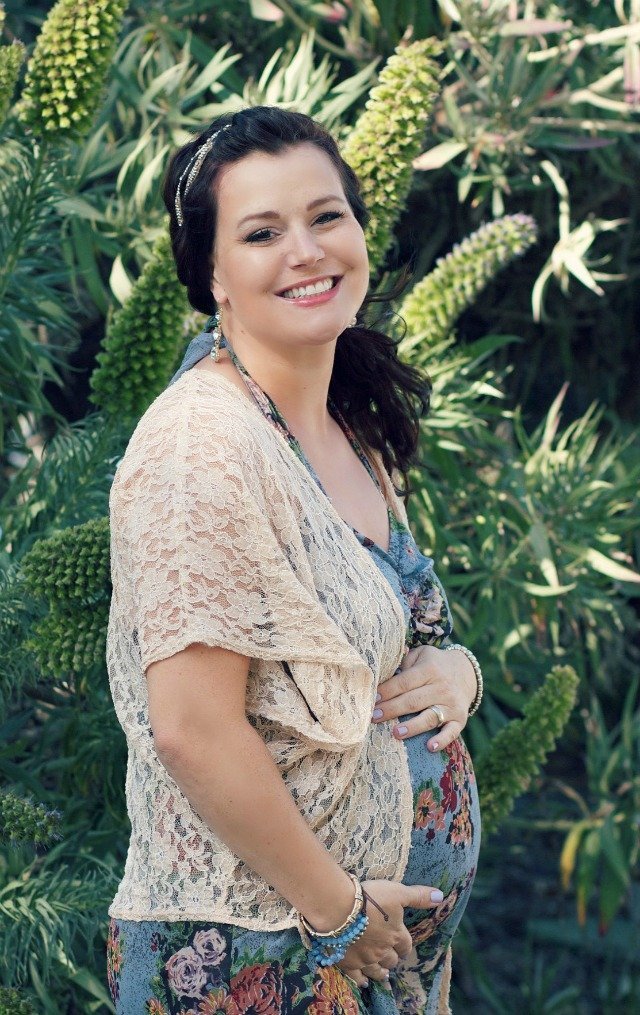 Now, I have to put a plug in for this maternity dress. I found that this online boutique, PinkBlushMaternity.com has the best maternity clothes ever. Like, ever. Their prices are really reasonable, they ship super fast, and the fit is great.
2.) Dolman Tops:
When I first heard the term "dolman" I thought it was in reference to some extinct species of birds. Or fish. You can imagine my surprise when I found out it signified this amazing shirt! This is another "in" style right now, and like the maxi dress larger sizes translate into great maternity wear! What I love about the dolman style is that it's clingy in flattering places–and loose in others.
Did I mention that this shirt is comfortable? I got this one from PinkBlushMaternity as well and I love it because it's lightweight and BREATHABLE. So all that nasty boob-sweat that comes with pregnancy has a chance to "air out."
You know what I'm talking about. Don't act grossed out.
3.) Colored pants, drapey cardigans, and fitted tanks:
Yes, I'm combining all three. Because that's how I wear them.
These pants are definitely maternity–I got them from Motherhood Maternity, the cardigan is from Target (not maternity), and the tank is also Target (maternity).
When I'm knocked up, the first thing to grow is the chest region. Oy. It takes quite a while for my belly to catch up. I've found that by wearing tight tanks I can accentuate the round belly and pay homage to the amazing boobs I have for a short time.
I run into trouble anytime I try to wear "flowy" tops, because there is no cut off from boobs to belly. I just look like I've got termites in my abdomen and have to wear a tent.
So there you have it.
Clothes have the power to take you from zero to ten. Zero being a dairy cow, and ten being a super hot pregnant chic 😉
Thanks so much, Natalia, for having me! If you want to read about maternity shopping gone wrong read this post. If you want to read about some of the biggest perks of being pregnant, read this one. You can follow me on Instagram @thehilljean and Twitter @thehilljean. Hope to see you there!