This is a Sponsored post written by me on behalf of Now Resorts & Spas. All opinions are 100% mine.
I'm back in France and my life is zooming back to normal. No resting here, the kids are back in school tomorrow and I have a French test to take! I took tons of pictures of our 18 hour travel day including me relaxing at an Xpress Spa at the Amsterdam airport, which was probably the best decision I made all day.
But today I am excited to share about Now Resorts & Spas and an amazing opportunity at the end. So keep reading!
You all know that we travel a lot. Unfortunately, a lot of it isn't for vacation. We actually don't get to take very many vacations at all!. We just happen to live in France and have family in The Bahamas and be from Southern California. Trust me, as luxurious as it sounds, we stay with family in the Bahamas and it's not a resort. It's lovely to be there, but it's not a vacation.
When we do go on vacation, we want everything. We want to relax and not think about anything, cooking, cleaning, you name it. We're not the active vacating types… That's why I love the concept at Now Resorts & Spas. They have an Unlimited-Luxury® concept where everything is included. Yep – Spacious suites, 24-hour room service, lively bars and gourmet dining with options like Mexican, Italian, and French.
One of my favorite things is everything they have available for the kids. With the Explorers Kid's Club for ages 3-12 and the Core Zone Teens Club for ages 13-17, it's really perfect for Family travel! Because while my kids are playing, I will be relaxing at the Now Spa by Pevonia. Yessssss.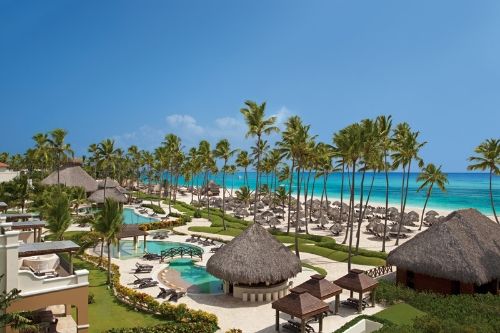 They have four All-inclusive luxury resorts in Mexico and the Dominican Republic which is perfect for an easy getaway. There's a super awesome treasure hunt for kids at the Now Jade Riviera Cancun. Fun for the whole family! But I would also love to do the deep sea diving. Scary, but a fun adventure!
At the Now Sapphire Riviera Cancun I would love to do the ocean front yoga even though it would be amusing for others… It'd also be fun to join in with the beach volleyball!
There's lots of fun family activities at the Now Amber Puerto Vallarta located along the sapphire water of the Banderas Bay. I think we'd try out the archery and definitely go kayaking! I'd have to convince my husband on that one.
At the Now Larimar Punta Cana we'd be chillin on the basketball quite a bit, you know, we're a basketball family. But I also think we'd try out the rock climbing, I know my son would love it.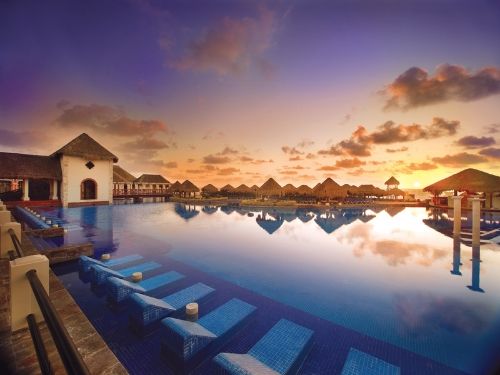 So today I have something even cooler to share! Now Resorts & Spas are giving away a free trip to one blogger that gets the most engagements on their post!!! I know, I know, you're probably thinking "Why would this matter to me?" Well, because if I win, I get to chose to allow one of my readers get a free vacation also!! Isn't that amazing??
So it would be absolutely wonderful if you could leave a comment here with which resort from Now Resorts & Spas you would like to visit!! Then Tweet or Facebook share this post and I will love you forever! And I might just chose you to have a nice little vacay as well!