Hey there!  I'm Alison, a mom of three, recovering yoga pants addict and mom style blogger at Get Your Pretty On.  My blog is all about being a mom without losing yourself.  I love translating trends into mom-friendly fashion and sharing outfit inspiration. Today I'm going to show how to wear one of my favorite trends, the chambray shirt.
Last fall, I added this staple to my closet and quickly discovered just how versatile it can be.
First I paired it up with colored denim.
Then I tried it with denim on denim.
After that I layered it under a sweater.
Then I created a simple look with leggings.
It's perfect for layering or wearing on it's own. The chambray shirt is truly a wardrobe workhorse.
Now I'm playing with ways to keep pairing it up as the weather warms up.  Here are four ways to get even more use out of your chambray shirt for spring and summer.
1.  With pastel jeans, a striped tank and floral flats.
2.  With some floral shorts and wedges.
3.  Over a maxi dress with metallic flip flops.
4.  Thrown over a bikini at the beach.
What's that you say? You don't have a chambray shirt yet? Well, we need to fix that!
Here are some options for every price point.
Spendy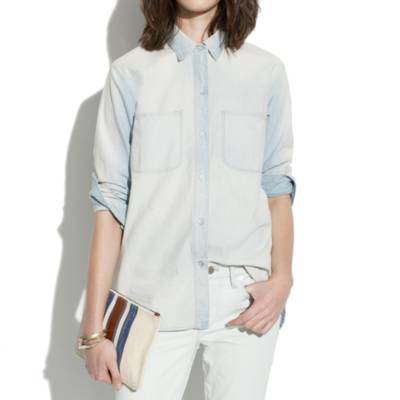 Mid-Range
Thrifty
It's Your Turn:  How do you plan to pair up your chambray shirt for warmer weather?