A day in the life….  You know, people often think that somehow my life, living in France and all, must be especially glamorous.  "She lives in Paris… ooh it must be so fabulous!"  Well, I have news.  I don't live in Paris.  And it seems like no matter how much I say that, people assume that because I live in France I must live in Paris.  Unfortunately for me, I don't.  (Because my life would be glamorous if I lived in Paris.  Or I'd just be broke.)  Instead I live in an industrial city a little more south, but not south enough to especially cool.  It's not know for anything and has no historical landmarks.
I live in France, not Disneyland.
And my life is… well just that – life.  I do the same things you do.  I take my son to school.  I play with my toddler who doesn't get to go to school.  I attempt to keep the house in decent order.  I cook, they eat, I cook again, they eat again and this process repeats itself over and over and over…  It's just life.
There are some benefits, however, I must say.  For one, most French people do not speak English.  This usually works to my disadvantage seeing as French is a hard language to learn, but it has come in handy a few times.  For instance when someone does something stupid in the store.  I can talk about them in English and they don't understand!  Kinda nice to be able to vent right then and there.
Or when I am at a basketball game and forget a diaper and Eli decides it would be a perfect time to take a dump.  So I head over to another couple in the gym with a baby seeing if maybe they could help a motha out.  Nope, no diaper.  Well I guess I'll make a little small talk… "Oh she is so cute!  Wait, what?  It's a he?  Oh my goodness, um… uh… well you know, I don't speak French very well, I always get he & she mixed up!  Sorry!!  Welp, see ya later!"  Yes, that happened.  In my defense, totally looked like a girl.
Or when we are just outside of my son's classroom and out of no where Tae proceeds to tell me that his teacher has a 'big booty.'  WHAT? There are so many things wrong with this situation.  First of all, where in the world did he learn about big booties?  I know, he is a boy and all, but still!  And why is he telling me about it?  More importantly, why is he telling me about it right outside the classroom door where the teacher is standing?  Oh wait, I think we're good here… she doesn't speak English!  Phew, another crisis averted.
And did you know that in France when a little kid has a special toy or blanket, they call the 'doudous.'  Yep, you say it like it sounds.  Well, I have a 5 year old American boy.  As you can imagine, it took us a little while to get past this word without laughing.  And by us, I mean him.
So what about you?  Do you have a funny story to tell?  Need to vent about something?  Just want to chat?  Well, that's what today is for!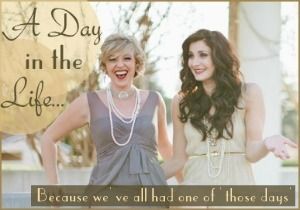 So here's the party 'rules'
1.) Please link up a post, not your entire blog. And as awesome as I think your craft/DIY project probably is, let's stick with the theme!
2.) It's not a party when no one is talking to each other! So party on and leave some comment love on a few blogs!
3.) If you can, grab a button and slap it on your post so we can spread the word! Just think the more people to join in, the more your blog is seen!
4.) We'd love it if you'd subscribe RSSso you can come back every week to share! Totally not a requirement, but we'd love to have you!